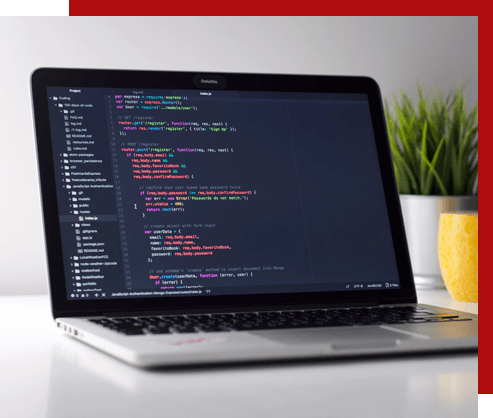 Laravel is the most in-demand framework for developing top-notch web applications. A PHP-based web application development framework is most sought after in web app developers because it is simple and quick to deploy highly effective and user-centric applications to solve most business needs.
Golpik has teams of In-House Laravel developers with comprehensive knowledge of blade template engine, MVC architecture, Artisan Console and object-oriented approach to deliver customized web apps that you will meet your requirements.
We have expertise in nuts and bolts of Laravel framework i.e. Authorization Technique, Object-Oriented Libraries, Object-Relational Mapper and so much more. Our hundreds of clients worldwide and their successful businesses are proof of our matchless Laravel web apps development. We just don't claim perfection, we create realities by developing expressive web app products for companies of all sizes from small enterprises to big companies.
Our Development and Execution Methodology

Project Research

Design

Development

Testing

Release

Maintenance
Laravel Development Services
Golpik: A Chicago-based Laravel development service, designs lucrative solutions of complex business problems and turns them into purpose-driven and expressive Laravel web applications.
Laravel Application Development from Scratch
Laravel is a One-Stop Solution to develop expressive, elegant and effective customized
web applications. We connect the dots and turn ideas on paper into riveting brands & businesses with
agile Laravel application development from scratch.
API Development and Integration Using Laravel
We guarantee quick and highly scalable API development using Laravel. Our Laravel
web app developers keep apps light-weight and highly scalable to increase app's swift performance
without compromising on features and functionalities.
Google
Google API integration helps you to create analytics dashboard that allows executives to centralize data from multiple sources i.e. Google Ads.
Microsoft
We recommend our clients avail API integration of Microsoft. It always helps them enjoy the best products to streamline their daily tasks and take their productivity to the next level. We can help you to leverage quick response time with other apps for better web solutions.
eBay and Amazon
We offer eBay and Amazon API integration to connect with giants of the eCommerce world. With this integration, we let clients automate the whole process of product listing and they could become top-sellers if you can satisfy their customers.
Quickbooks
We are offering Quickbooks API integration. Quickbooks Enterprise API is a software solution to help large and small businesses manage inventory, sales, and payroll, etc. Our API integration services for Quickbooks work with all eCommerce CMS, CRM, ERP and order management software.
Quest Diagnostics
Quest Diagnostics, The USA-based clinical laboratory, operates in all major locations across the globe. Availing Quest Diagnostics API integration is highly useful as it allows its users to view their test results from anywhere as they do with other health data.
Paypal

PayPal offers two payment gateway options: a) Payflow Link, b)Payflow Pro. Payflow Link is not customizable and PayPal hosted, but it is free. Whereas Payflow Pro is easily customizable and you can design checkout experience as per your business requirements.
Stripe
Stripe is a payment gateway used by the best services and platforms such as Lyft and Shopify. It is a developer-friendly way to accept payments online. We help clients in the integration of Stripe as a payment gateway for their websites and eStores.
Stripe Connect

Stripe Connect is mostly used in large-scale businesses. It can support all business models i.e. Crowdfunding, On-Demand Business, etc. It is the first choice as a payment gateway for marketplaces and big platforms.
Authorize.net
Established in 1996, Authorize.Net has become one of the best payment gateways across the globe. It lets online business owners accept credit cards and electronic checks (with eCheck.Net).
Brain Tree
Created in 2007, Braintree has evolved greatly and has become a safe payment gateway for online businesses, eCommerce websites and eStores. Golpik has an incalculably talented team of developers to help with the customization of this payment gateway at discounted rates with zero difficulties.
Middleware Application Development
We help businesses overcome their integration challenges by offering quick, secure and flexible middleware application development. It helps clients to eliminate hurdles and beef communication with other systems and networks.
Business Intelligence Application Development
Avail top-notch Business intelligence application development service to ease up storing, sorting, and analysis of data. Our web app developers create opportunities for clients to optimize their performance with data-driven insights as they blend BI strategy with technical acumen.
Scalable Deployment
Golpik has a team of specialists to carry out the highly supervised scalable deployment of large-size apps for big-scale enterprises. We ensure careful execution of the deployment process without dropping any key features when their apps are going live.
Laravel E-Commerce Development
Based on MVC-structure and being a highly secure PHP framework, Laravel is the ideal choice for creating scalable and responsive online stores. Therefore, we offer Laravel eCommerce development services to help you get rid of needless changes and avoid a drop in the speed of your webstore.
Migration To Laravel
We help clients to migrate their web application from other frameworks to Laravel for enhanced performance and best features. Eventually, it will optimize productivity and increase the efficiency of an app with optimized speed.
Laravel Module & Package Development
Our experts with in-depth knowledge of Laravel module and package development create the best solutions within a specified timeframe. They put logic and aesthetic together for incredible output.
Laravel Audit, Consulting, And Testing
Golpik is an award-winning Laravel development company with head office in Chicago, Illinois. It is a powerhouse of qualified Laravel web developers with experience and expertise to deliver quick fixes of most complex web application problems. Our Laravel testing package is inclusive of automated & manual QA testing, network testing, and penetration testing to keep Laravel-powered web apps bug-free and virus-free. Our Laravel testing enhances the performance of web apps.
Product Re-engineering
Performance Tuning and Optimization
Code Auditing
Laravel Support And Maintenance
Our experts with in-depth knowledge of Laravel module and package development create the best solutions within a specified timeframe. They put logic and aesthetic together for incredible output.
Why we are Top Laravel
Development Company
We create endless opportunities for businesses to optimize their efficiency with our Laravel development services. We blend trends and technology to build logical and effective solutions for enterprises. Based on MVC- architecture with built-authorization, and robust security, we rely on Laravel as a famous PHP framework to provide the best in market web applications to our clients, that too as per their requirements.
Experience Across Multiple Industries

Since its inception in 2012, Golpik has helped numerous enterprises, companies, and brands across the globe with top of the heap web application development service. We offer first-rate Laravel development services to grow our clients' businesses. Our Laravel web app developers are vastly experienced to solve any problem with speed optimization.

Maintaining large scale application

Avail our seamless integration of Laravel apps with external APIs. We are expert in Laravel Lumen development to simplify integration of Laravel Apps.Our experts create responsive Laravel-powered web apps and sites to fulfil your business requirements.

Constantly evolving small
projects into a large product.

We offer trendsetting Laravel development services to increase clients' business efficiency. Our Laravel-powered web apps unlock instant growth opportunities for enterprises. Our experts mix technological strategy and business creativity together to constantly evolve small projects into large products.

Helping startups becoming a unicorn

Golpik: A Chicago-based Laravel development service, believes "Unicorn-like Ideas demand unicorn-like execution. "Therefore. We ideate. We innovate. We create unique value propositions to help startups become industry unicorns. Let us turn your plain ideas on paper into trend-setting digital products.

Fast execution time

We are always on the go to help our clients in their projects. Not only do we promise perfection, but also, we earn it by ensuring fast execution time with effective project management approaches. Our Laravel development prowess helps us meet clients' deadlines - Proactively and Productively

Focus on making your idea success

Our vision is clear- To help our clients move from nowhere to everywhere with the best digital products and web app solutions. Golpik turns ordinary ideas into extraordinary realities. We strategize and execute with undivided focus on making your idea successful.

Experience in Third-party API integration

Do you want to hire a reliable Laravel application development with experience in third-party API integration? Look no further, we provide quick, scalable, and lightweight third-party integration to help you and your users with the best services. We can easily integrate 3rd party APIs into clients' apps with high scalability and flexibility.