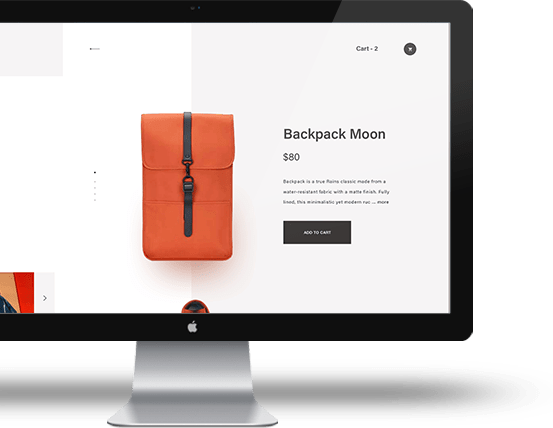 Magento Design and Development at Best Price
We are on mission to transform your e-Commerce store with innovative Magento web development.
Golpik is One-Stop solution for eStores wanting to multiply their revenue by 100x. We've certified Magento developers with in-depth expertise and vast technical knowledge of Magento: A simplified and features-rich eCommerce platform.
We meet clients' requirements practically because we just don't claim perfection, we earn it. We innovate ideas to turn your imagination into thriving e-Commerce storefronts. You don't need to worry about growth of your eStore anymore because we've well-trained and proficient Magento developers to provide you quick solutions with features-rich services. Hire us to elevate your identity everywhere because we have well-trained and proficient Magento developers and designers to make your brand move from anonymity to popularity and become most trusted voice in the world of eCommerce. That's why; from Magento designing and Custom Magento development to Magento integration, migration to Magento extensions, Golpik leaves no stone unturned in providing best services, that too at affordable prices.
1
Magento Development Services
Since, we're full-spectrum Magento development company. Therefore, we can help clients in custom Magento development services with ease. We have more than 100 certified Magento developers to build highly responsive and easily scalable eStores.
2
Magento Design
It is indispensable for a web store to be responsive and eye catching to stand out in the competition. And, it's only possible with a professionally developed Magento design. We help create Magento designs for web stores for unforgettable user experience to customers.
3
Custom Magento Development
With our team of expert Magento developers, you can get your Magento customized to fully accommodate functionality and custom workflows.
4
Magento Integration Solutions
We aim to provide fast Magento integration solution for hassle-free synchronization of data between eCommerce stores and ERPs to help you secure time and cost invested. It's helpful in keeping eStore and back office in flawless synchronization.
5
Magento Migration & Magento 2 Upgrade
We're specialists in Magento migration and Magento 2 upgrade, and we help our clients in migrating their web stores from third party eCommerce platforms to all the way to Magento, and then from Magento 1.x to Magento 2 without any hassle.
6
Magento Extensions and Modules
Golpik has a big team of specialized Magento developers to build custom Magento extensions and modules to meet specific requirements of your business and elevate the overall functionality of Magento.
7
Magento Performance Optimization Services
Get the most out of your Magento storefront with our first-class Magento performance optimization services and accomplish your business goals timely.
8
Magento Maintenance and Support
Our team of Magento experts are swamped with resource and skills to help you in a matter of seconds. They are always available to take you out from difficulties and hassles of eCommerce.